CoCo Adventures sends us this text about his experience in Qatar with our Explorer paddle surf board:
At first I felt disappointed by its beaches and its sea, since I was expecting something more authentic like the experiences I had in other Middle Eastern countries such as Oman or the United Arab Emirates. Here it took me longer to adapt, I don't like big cities, nor tall buildings, that they privatize all the beaches and that everything is prohibited, closed. I felt trapped not only because of its urbanism, but also because Qatar is a country only good for windy water sports and long-distance crossings are somewhat complicated if you want to return to the starting point.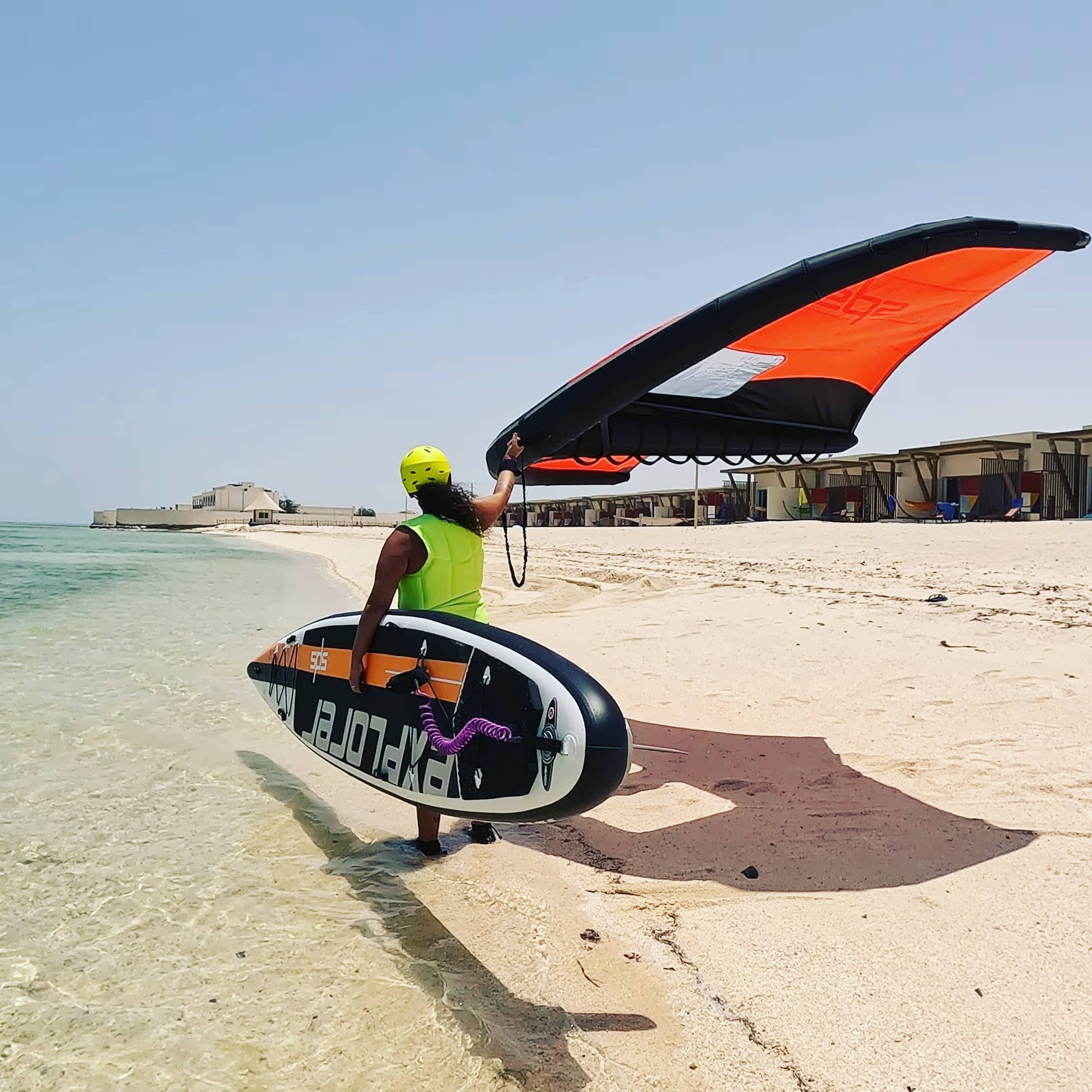 I have a 5m Wing and my board is 14, it's a lot of fun, but in choppy water and a board that in order to turn I had to take more steps than the wall of china and all that in balance and without losing a tooth was sometimes a real challenge but one of those that are cool. I have to admit that the days I went out with the wing and the SuP were one of my favorites.
Within all that chaos I decided to hit the Wing properly with a proper board, albeit with a lot of volume to start with. But one day the wind stopped and of course I couldn't miss the opportunity to get out of that limit that had me so frustrated. A free being like me is useless to be locked up in a navy. I like to go away, get lost, see, discover, have a bad time and have a great time.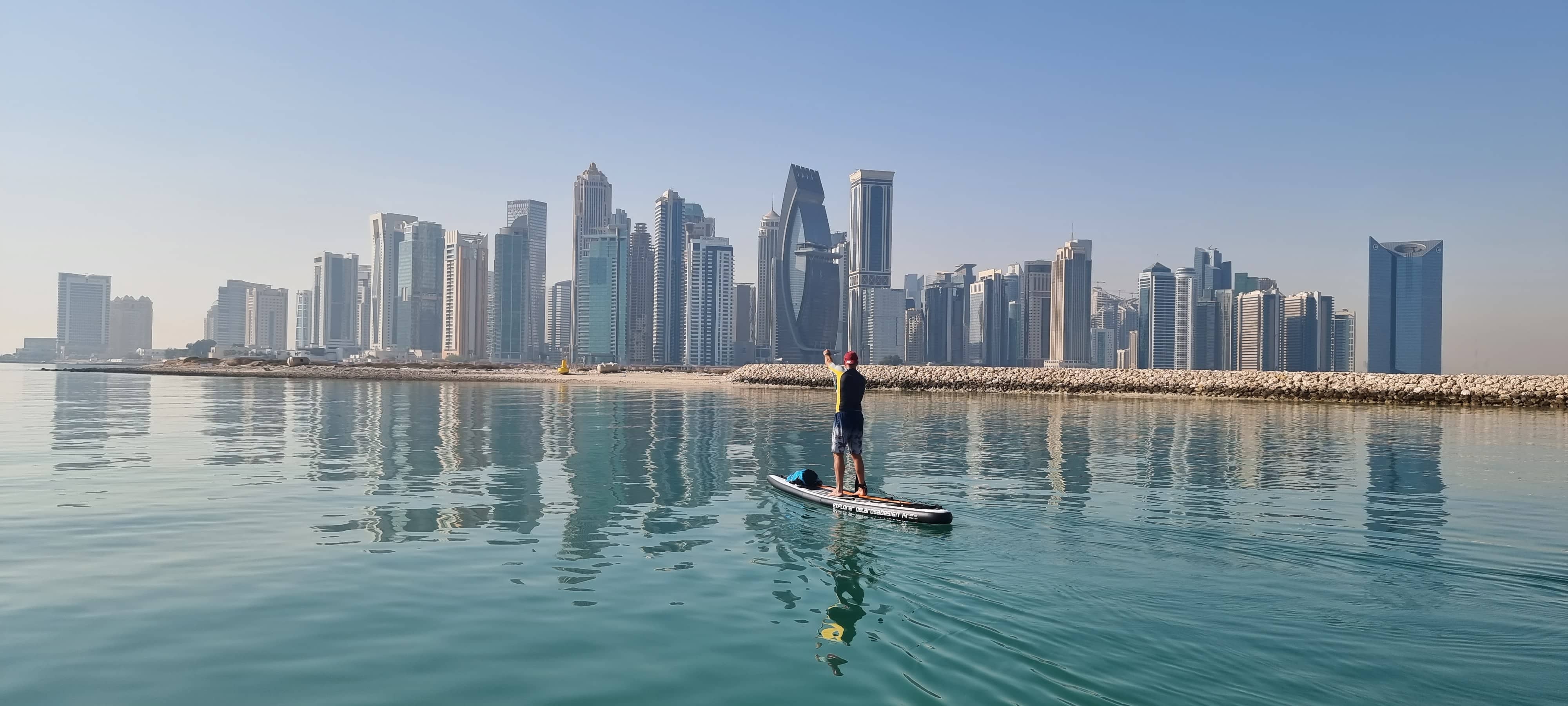 That long-awaited day arrived and I was able to go out to sea and venture into the entire bay of Doha, the water was calm, green, beautiful and the buildings no longer bothered me so much because I could finally see what interested me in this union that I have with the sea but calmly, slowly. There was no one, the guards were still sleeping and some did not realize that limited areas were passing. It was pure silence and I was there venturing out and finally filling my 4 senses Coco style. I sailed about 40km aimlessly that day and I was on the board for about 7 hours, bumping from one side to the other, seeing the city from another perspective.
The one that I like away from the chaos, the noise of the cars but with the noise of the sea, the breeze and some boats.
The following weekend the same thing happened, on Saturday the wind decided to give up and that's when I fell in love with Doha. I called my friend Alex and I left him my other Explorer to finally take him on a true adventure that I talked to him about so much but I could never do with him since he did not have enough experience in rough seas. It was incredible, wonderful and I still have in my mind that feeling of freedom combined with pure beauty and nature. Again it was a calm day with no shipping traffic in the morning. We were stopped by some coast guards who didn't let us rest on the beach because everything was private so we sat on the board to wake up our numb feet, we just said "woaaaww" we hardly spoke because once again mother nature showed us her great splendor, fish flutes jumping around us, rays and flutters, a couple of turtles and some flying fish that were sticking some impressive sprints. In the background the whole city but on the other the limitless blue horizon opened up. We challenged each other to row and row, Alex was doing very well it was his first time in good conditions. Going out to row long distance in difficult conditions for a novice will become a negative factor and lead to the abandonment of this wonderful sport. That can be a negative factor.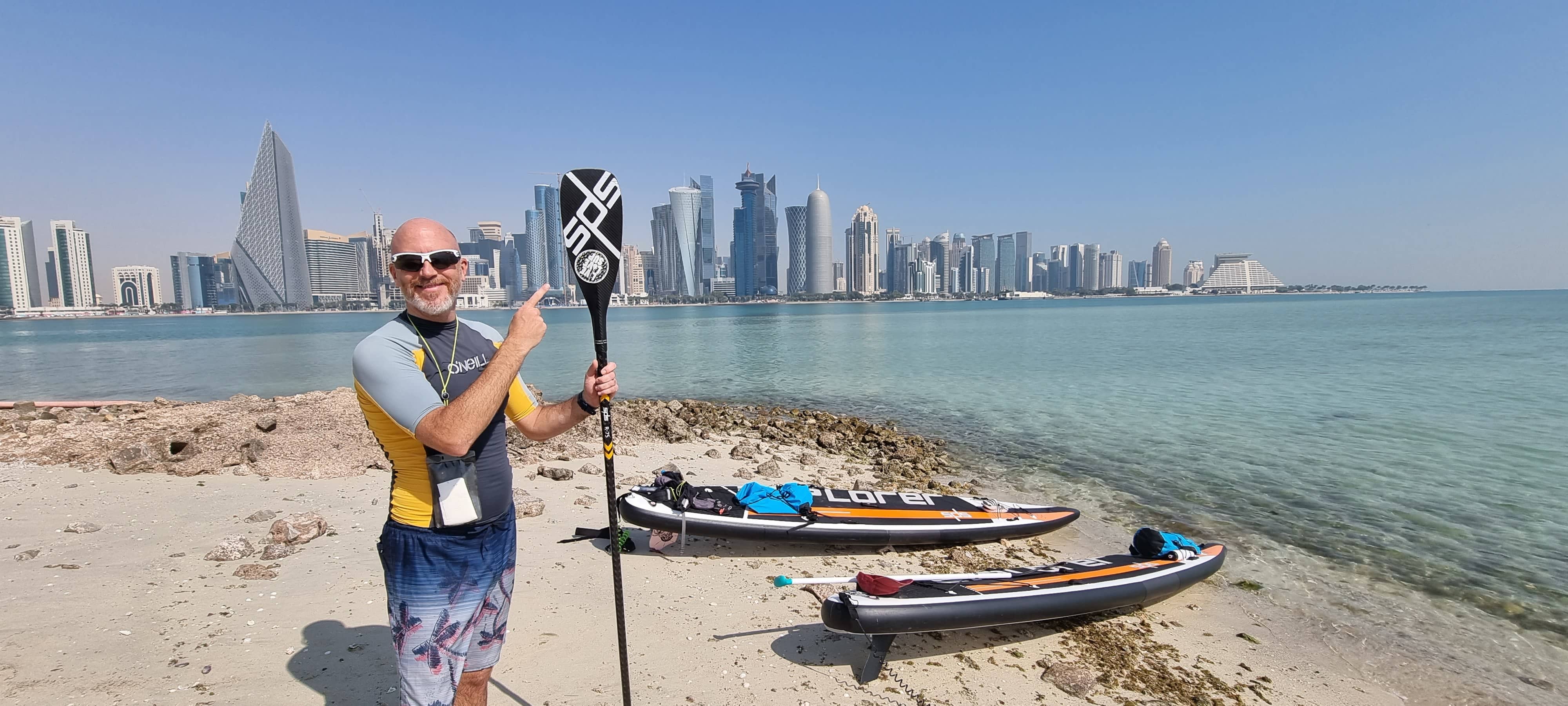 We went to two different islands, one had the great symbol of the 2022 world cup and the other had nothing, it was not prohibited and it even had umbrellas…..finally some land and shade. We ate pasta that Alex had prepared and it was delicious, we were also hungry and we had been paddling for 6 hours even if it was at a calm pace. We didn't have much water left to continue for a long time so we decided to shorten our lap to 20km because we were so happy, amazed by that bay and island: suddenly, Doha seemed like an incredible city. We were both impressed by the other beautiful side of Doha and we want to continue discovering more before the heat and the wind prevent us from going out again. What makes me most happy is that my friend finally found peace of mind through our wonderful sport and I have faith in humanity. There is no better therapy than "Vitamin sea and sport".